Your home is an important investment, & our house washing service helps protect your home's property value and curb appeal. We start your house washing service by rinsing your home's exterior with an eco-friendly chemical. We allow it to seep deep within your siding and eat away at the dirt, mildew, and mold build-up, then rinse the contaminates off with low-pressure water.
Our detergents are pet and plant friendly and work as a mold inhibitor to keep your siding looking at its best for a longer period of time. We've seen too many homes that have been harmed by high-pressure washing techniques, and we're proud to provide a safe replacement for our customers. Offering services to residential apartment complexes, multi-unit condos, and more no job is too big for San Angelo SoftWash!
SOFT WASHING: THE SAFE ALTERNATIVE TO PRESSURE WASHING
The traditional, high-pressure method of cleaning


1,500+ PSI blasting inches away from the surface to clean


High pressure can be damaging & destructive on your property


Blasts only the surface of the stain, leaving the root of the bacteria to grow back faster


Pressure washing should not be used for roof cleaning. If used on asphalt shingle roof it could void your manufacturer roof warranty!



Caution! High-pressure washing systems are likely to damage asphalt roofing and should not be used on asphalt roofing for removing algae or for any other purpose. - ARMA (Asphalt Roofing Manufacturers Association)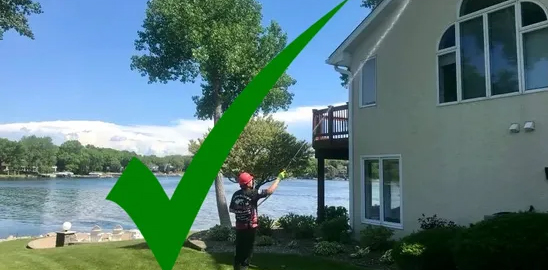 SOFT WASHING
Soft washing is the safe alternative to pressure washing


80+ PSI (good garden hose pressure) applying biodegradable solutions to the home, then simply rinse away with water


Gentle, low-pressure technology is safe for all surfaces


Biodegradable, water-based solutions emulsify dirt and grime and sanitize mildew, algae & other bacteria for a longer lasting clean


Recommended roof cleaning method by the ARMA & GAFOur unique process utilizes the World Health Organization & CDC Recommended sanitizing process.


Our priority as a health & safety company is to help reduce slip and fall hazards, eliminate mildew causing allergens and provide a healthier sanitized environment
Stucco cleaning is one of our specialties! Over time porous stucco and Dryvit can easily grow mildew and bacteria. Watch as soft washing with our damage-free, low-pressure, and 100% biodegradable exterior cleaning solutions eradicate all bacteria on contact! Safely restore stucco with soft-washing! House washing is important for a number of reasons and visual aesthetics are only part of it. This is part of keeping your home's exterior protected from contaminants like mold so you can keep it intact and avoid having these contaminants make their way inside your home. From vinyl, aluminum, and wood to stucco, Dryvit, and brick, we have a house washing solution for every surface.